Epoxy Film Press, Press Board, and Holding Fixtures
EFP-500E Press
500 lbs of force
Integrated Load Cell
Very Repeatable
Easily Adjustable
7.5" x 12" press area
Bonding Source offers the most versatile 500 lb. epoxy board mount press in the industry. The EFP-500E utilizes house air and works off a pneumatic piston to control the force required for curing film epoxies under pressure. The integrated load cell confirms actual force.  The press is used with the holding fixtures, which maintain constant pressure while in the curing oven.  To see the youtube video of the press in action, click here.  Call for process operation details and pricing.
 Made in USA- Manchester NH
A sampling of companies currently using the Bonding Source Epoxy Press:
Amplifier Research, Analog/Hittite, API, Cobham, Comtech PST, Frequency Electronics, Harris/ITT, MACOM, Mercury (2 locations), Monzite, Northrop Grumman, NXP, Textron.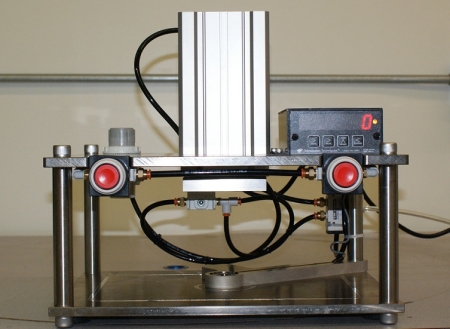 | Description | More Info | Application |
| --- | --- | --- |
| HFL, HFM,HFS | Holding Fixture Info | Holding fixtures, 3 standard sizes, to hold pressed assemblies under pressure while curing in the oven. Custom sizes available |
| Silicon Press Board | COHRlastic 9050/500 Data Sheet | .125" thick silicon press board used to press onto substrate. Available in 12" x 12" sheets or laser cut to circuit board shape. Press board can be re-used multiple times. |
| Flourosilicone Press Board | Flourosilicone Data Sheet | .0625" and .125" thick flourosilicon press board used to press onto substrate. Available in 12" x 12" sheets or laser cut to circuit board shape. Press board can be re-used multiple times. Heat and chemical resistant. |
| Teflon Sheet | Teflon(PTFE) Data Sheet | Teflon sheet, .005", .010", or. 015" thickness. Used between silicon press board and substrate to protect against any outgassing onto plated areas that will be wire bonded. Available in 12" x 12" sheets or laser cut to circuit board shape. Teflon can be re-used multiple times. |