Connor Clip C3
This clip is ideal for small side brazed packages, cerdips and ceramic clip carriers.  In stock and ships today if ordered by 2:00 PM EST.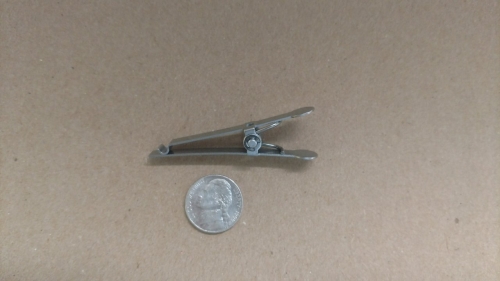 Length: 2.4"
Tip Width: .25"
Jaw Depth: 1.5"
Clamping Force: 1.5 lbs
Clip Material: Stainless Steel
Spring Material: Inconel
Temperature: 370 C (700 F)
Connor Clips™ are designed and manufactured to stand up to extreme conditions and harsh environments while maintaining consistent alignment and pressure. The Connor Clips are designed to utilize the properties of Stainless Steel and Inconel to perform in extreme temperatures and chemical exposure. This combination of materials not only allows for the clips to operate in temperatures to 370o C (700o F) while maintaining accurate loads but also provides for longer product life, cycle after cycle. The clips unique pivot design offers even tip and load pressure. Connor Clips are uniform hermetic sealing and alignment of packages during manufacturing processes requiring exposure to high temperature belt furnaces. Bonding materials commonly used in these processes are solder paste, alloy or epoxies.